Why Use It?
Engine Solutions HR Performance Management solution helps organisations and their employees achieve outstanding results, lifting both productivity and morale by helping them bring their entire performance management process to a new level of collaborative innovation, where critical business information is captured, processed and acted upon effortlessly, leading to significantly improved visibility and understanding for everyone in the enterprise.
There are many benefits to moving to our HR Performance Management solution: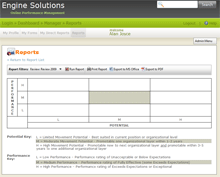 Speed, Efficiency & Accuracy
Improve the speed, efficiency and effectiveness of your performance management process whilst reducing the administrative burden; our solution will add significantly to your bottom line. Organisations that pay significantly higher bonuses to high performing employees achieve a substantial higher total return to shareholders.
Critical Business Information
The ability to capture critical business information and to speedily turn that information into easily understood business intelligence is perhaps one of the most difficult tasks organisations face today. Engine HR Performance Management Solution provides an easy to use, intuitive system that facilitates collaboration and the efficient capture of critical business information across the enterprise.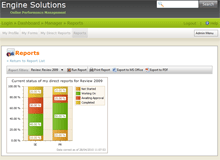 Control and Visibility
Understand the potential problems before they become issues. Have meaningful data on the skills and competency gaps that exist. Know who the most suitable internal candidates for the management roles are. Have total control over a flexible and intuitive critical business process that integrates with your existing systems and processes. Engine Solutions HR Performance Management System can give you that control, visibility and capability.
Reduce Costs
Since employees and managers can fill out their performance review forms online you will immediately eliminate the cost of producing, distributing and collecting paper forms, which decreases the level of administration support required.
Save Time
Employees can fill out and submit their employee profile, objectives and self evaluation forms online notifying their managers and HR instantly, avoiding unnecessary delays.
Standardised Process
Centralised forms and functionality ensures consistency across your organisation or within individual departments.
Ease of Use
Employees can complete easy to use online forms from any PC connected to your corporate network.
Security
Security is of utmost importance in an application that manages confidential HR information. All users are authenticated and access to employee information is restricted to authorised personnel only.
To talk about the benefits of Performance Management, contact our experts at sales@engine.ie