Enterprise Content Management
Structured Information
A content management system is used to collect, manage, and publish content. It also encompasses the processes and workflows involved in organising, categorising, and structuring information resources so that they can be stored, published, and reused in multiple ways.
Content management can save your company time and money when it comes to communicating information on the web. Processes and workflows ensure the quality and consistency of your content. Intuitively structured information is both easy to search and navigate. All of these things ensure that you effectively deliver content to your websites.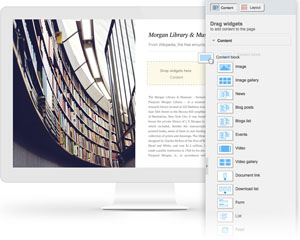 Easily create, edit, preview and publish great content on your websites. Build pages and forms faster with an amazing drag-and-drop user experience. Make fast updates with powerful inline editing. Ensure content quality and governance with approval workflows, granular permissions and version history.
Our solution can be extended rapidly to provide a content management system to fit your needs. Customised designs and templates can be incorporated into the solution, while the workflow process can be configured to match your organisation.
To talk about the benefits of Content Management, contact our experts at sales@engine.ie