Enterprise Document Management
Document management controls the life cycle of documents in your organization — how they are created, reviewed, and published, and how they are ultimately disposed of or retained. Although the term "management" implies that information is controlled from the top of the organization, an effective document management system should reflect the culture of the organization that uses it.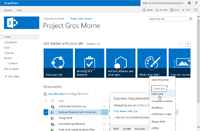 The tools that you use for document management should be flexible enough to enable you to tightly control a document's life cycle, if that fits your enterprise's culture and goals, but also to let you implement a more loosely structured system, if that better suits your enterprise.
The Elements of a Document Management System
An effective document management solution specifies the following:
What kinds of documents and other content can be created in an organisation;
What template to use for each kind of document;
What metadata to provide for each kind of document;
Where to store a document at each stage of its life cycle;
How to control access to a document at each stage of its life cycle;
How to move documents within the organization as team members contribute to the documents' creation, review, approval, publication, and disposition.
SharePoint Foundation 2013 includes features that implement all these aspects of document management.
To talk about the benefits of Document Management, contact our experts at sales@engine.ie