E-Commerce & Online Payments
Better Business
E-Commerce is a relatively new sales channel for businesses. With its low over heads and zero management capabilities, it is a very attractive proposition for companies. An e-commerce solution can allow you to easily transact with both consumers (B2C) and other businesses (B2B).
As with any sales channel, whether it is a retail outlet or catalogue sales, research into your audience, marketing and investment into your channel are the key elements to success. An online E-Commerce solution is no different to the other channels mentioned and with the right approach and investment your ROI can be maximised.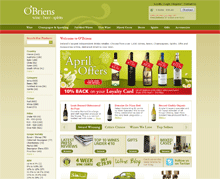 Our E-Commerce & Online Payments solution lets your company trade on the web in a fast, secure manner, which is both easy to manage and to use. It provides an enjoyable and personalised shopping experience to your customers.
Our solution comes with a custom built design and functionality such as product grouping, promotions, price lists, discounts and electronic coupons. The administration facility, the Store Manager, allows easy access to update your store, run reports and manage your new sales channel.
The Store Manager can be customised with individual requirements but boasts a huge array of management features as standard.
To talk about the benefits of E-Commerce & Online Payments, contact our experts at sales@engine.ie