Why Use It?
Utilising Engine's Case Management system provides you with many advantages.
Improve Efficiency
Improve organisational efficiency in all aspects of case management; improve reaction and decision making times for cases.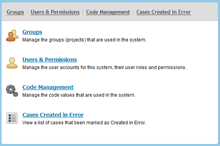 Reduce Administrative Burdens
All case information is stored electronically removing the overhead of paper based filing. All correspondence, including faxes, email and letters can be stored in the inbuilt document management system. Information is instantly captured and shared in the centralised online system.
Improve Customer Service
Increase the level of client/customer service through improved quality of data and access to information.
Centralised Information
Case workers can access and work on their cases from any location, whether in the office or out on the road.
Standardised Data Sets
A structured case format ensures that all case workers use the same standardised data set for cases. This improves the quality of the information that is recorded and allows for better reporting.
Powerful Graphical Reports
Monthly, quarterly and annual operational reports, as well as ad-hoc reporting is provided for in the reporting module. Reports are presented in a rich graphical manner with charts and tables, which can be exported to Microsoft Office and PDF formats.
To talk about the benefits of Case Management, contact our experts at sales@engine.ie