Bespoke Versus Out-Of-The-Box
Depending on your requirements it may be appropriate to develop a bespoke solution or deploy an out-of-the-box solution. There are very good reasons for both approaches and Engine Solutions will assist you in making the right decision.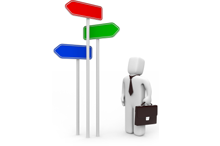 Advantages of Bespoke
A bespoke solution will match your organisations needs in terms of features and functionality completely.
The cost of a bespoke solution may be more cost effective than buying an out-of-the-box solution, with the same level of functionality.
The cost is directly related to the functionality you require i.e. you are not paying for redundant functionality.
The user interface can be created to match the precise level of computer skills of non-technical users.
Technical support for fixes and enhancements would be carried out by the project team, making definition and communication for such work fast and direct.
A bespoke solution is not bound by any particular platform or technology - it can easily accommodate your existing IT infrastructure.
Advantages of Out-Of-The-Box
Already developed, tested, fully supported with a planned development road map for future enhancements and new versions.
Customer-specific bespoke enhancements can be met either through additional consultancy work, thus alleviating the need to construct a complete solution from scratch.
Time to implementation can be almost instant, depending upon specific customer requirements.
The vendor can offer full training support and provide up-to-date and comprehensive supporting documentation.
The customer has automatic access to all new rolling product updates and enhancements and future releases.