Training
A key element of any project is training. Engine Solutions offer instructor led training services in a classroom environment. For any software solution developed by Engine Solutions, we can provide train the trainer, or full end user training services.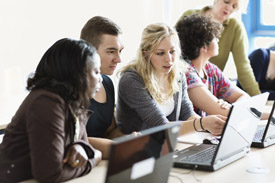 Project specific training documentation and tailor fit courses are designed around your project's training requirements.
A typical training session involves a system walk through or demonstration, practical task based exercises, followed by a Q & A session. At all times an experienced trainer is available to answer any questions. This formal training approach aims to ensure that the users of a system get the maximum benefit from both the training session and the system itself.
To talk about the benefits of Training, contact our experts at sales@engine.ie